Like good food? We sure do!!
Our favorite
Kauai restaurants!
Dining on Kauai is different than say, Oahu or Maui...Kauai restaurants take casual Hawaiian dining even further!
Although it is still generally expensive, Kauai's "resort" areas are not nearly as large as the other islands, and there aren't nearly as many "tourist trap" restaurants that charge $30 for a tiny piece of fish with mango salsa on a pretty plate!
Now, expensive restaurants are still certainly around, and if an expensive meal means a great meal to you, then you'll still find plenty of places to indulge...
...but the best food doesn't always mean the most expensive food, especially here on Kauai.
So what made us choose these particular places as our favorite Kauai restaurants? We like the food at all these places, no matter the price.
Now I don't know about you, but I'm always leery of "favorite" restaurant recommendations...I've often found that places "you have to go to!" are places that the person who TOLD me about them "had to go to", not particularly me!!
We're not "restaurant critics", nor are we food experts...we're just a family that knows what we like to eat!!
So, with that caveat, here is the short list of our favorite Kauai restaurants.
Some are really kid-friendly, some have a certain specialty that we've acquired a taste for, and all have something about or around them that keep bringing us back, visit after visit.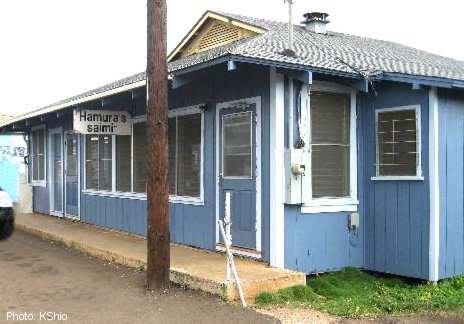 Hamura's Saimin Restaurant
The clear winner (for the whole family!) was Hamura's Saimin restaurant in Lihue. We LOVE this place! A real local joint, it's kind of a dive, but has a noodle soup called saimin that makes my mouth water just thinking about it...Daddy (and probably Sydney) could honestly eat there once a day for the whole vacation!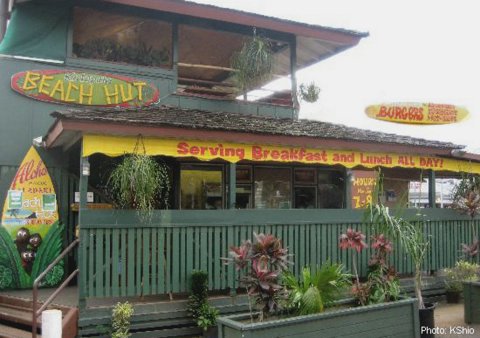 Kalapaki Beach Hut
...next would be the
Kalapaki Beach Hut
, next to Kalapaki Beach and the Kauai Marriott Resort. Not only is it so close to where we stay at Banyan Harbor, this unassuming "hut" has the best fish sandwich on the island!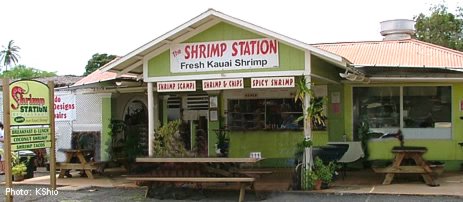 Shrimp Station Restaurant
A close third is the
Shrimp Station
in Waimea, and if it wasn't quite so far away from Lihue, it would probably jump to first or second!!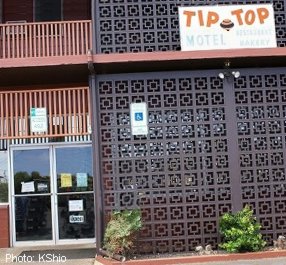 The Tip Top Cafe
For breakfast and lunch, we make a point of hitting the
Tip Top Cafe
(and motel!) in Lihue for the macadamia/banana pancakes, and the oxtail soup...
...Eggbert's, in the Coconut Marketplace is also a good breakfast place...pricier than Tip Top, but the portions are large and the ambience is better...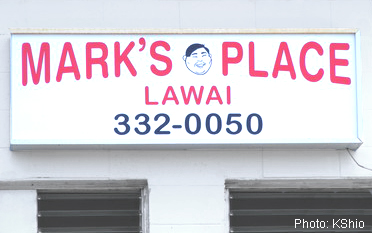 Mark's Place Restaurant
Mark's Place
is another local joint serving GREAT food for cheap! It's best to plan on taking out here, as there's no real seating. Grab a mix-plate to go, and head to a beach to eat!
...Ono Family Restaurant is also really good, with local flavor food and service...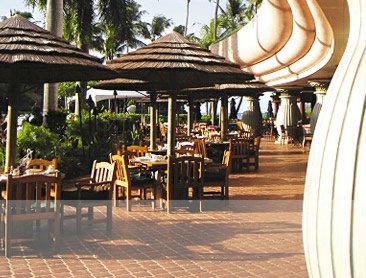 Kukui's at the Kauai Marriott
When we feel like splurging a little...
...
Kukui's Restaurant
at the Kauai Marriott is a
wonderful place to indulge...