Craving shrimp?
Then Shrimp Station restaurant
is the place to go!
Because that's pretty much all Shrimp Station does....SHRIMP!!
Kinda like Bubba in the "Forrest Gump" movie- "They's got garlic shrimp, and coconut shrimp, and shrimp with thai chili sauce and garlic, and shrimp tacos, and shrimp burgers, and curry shrimp, and shrimp scampi, and..."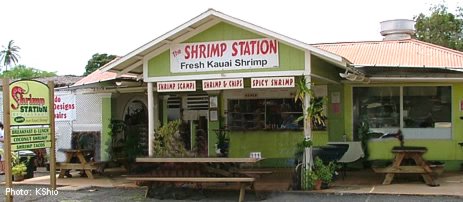 Shrimp Station restaurant
9652 Kaumualii Highway, Waimea, Kauai, HI 96796
Tel: (808)338-1242
We definitely make the drive to the south side to eat here at LEAST once during our visits. As you can see, it's not fancy, but the service is friendly. You can eat at the outside tables...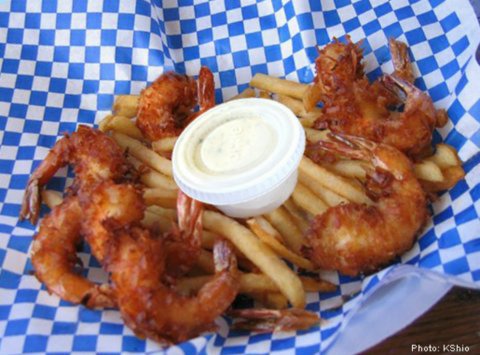 The coconut shrimp and fries
are best when they're hot
...but we like to get it to-go, and then find a beach to sit on while we eat, or we'll take it back to the
condo
...
...except the coconut shrimp, which we eat there, or while driving, because it does NOT travel well!




...oh yeah, they're only open from like 10:00am til 5:00pm, so no dinner, but for lunch, it rocks! We usually head there after a day at
Poipu Beach , and then bring it back to Lihue to scarf!


Peel 'n eat garlic shrimp, mmm!!
Be prepared for a mess - especially if you get the shell-on kind, it's finger-lickin' good!
Sydney loves to peel and eat-it's one of the few times she can make as much mess eating as she wants, and Daddy doesn't care!!




Thai sweet chili shrimp
Sydney loves the garlic, Mommy likes the Thai, and Daddy likes the Cajun...we all like the fries...
...a bunch of shrimp and fries or rice for less than $12 bucks...that's why this Kauai restaurant makes the short list!

Return from Shrimp Station to Favorite Restaurants
Return to Homepage