Why Kauai?
You'll have an unforgettable vacation in Hawaii with your family!!
For an amazing family vacation in Hawaii, come to Kauai where there's always something to keep the kids entertained!
...we've found that Kauai, is the prettiest, most laid back, and LEAST EXPENSIVE, of all the major Hawaiian islands.


Each and every Hawaiian island offers something unique, and we've visited them all. We love the shopping, glamour, and sheer energy of Oahu, and Sydney especially likes the bustle of Waikiki...
...Jennifer and I picked Maui as the island for us to be married on. Big Beach at sunset. Our reception party was at Sansei restaurant in night-life heavy Lahaina...
...I have relatives on the Islands, and have spent some time on Molokai and Lanai...



The pace is slower, the people are friendly (they even stop and let you turn in front of them while driving!), and from the little artist town of Hanalei, to the elegance of Princeville, Kauai manages to keep that local charm while still offering all the activities and adventures that a family vacation in Hawaii requires.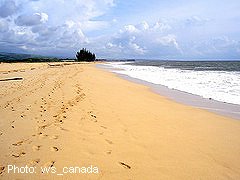 No hotels cluttering the beach!!
Now,
you won't find a Gucci or Chanel store
, and there are no sprawling resorts lined up back to back on the beaches...
...but then again, you won't find a Gucci or Chanel store, and there are no resorts lined up back to back on the beaches!!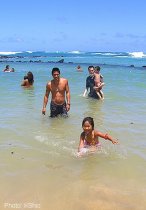 Kauai beaches rock!
Kauai weather
is moderate and
mostly beautiful year round
...
...the
beaches
are beautiful, abundant,
and lots of them are very kid-friendly
...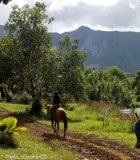 Horseback riding
...if you and the
older kids
are the adventurous type, there is surfing, horseback riding, whale-watching, helicopter flights, zip-line tours, surfing and kite-surfing lessons
and more
....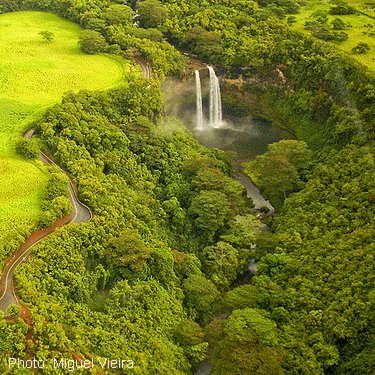 The "Fantasy Island" waterfall
Check out Wailua Falls
...and there are also well-known (and little-known)
sight seeing areas
and places where you can enjoy the natural beauty of Kauai and the togetherness of family for the price of a
rental car
and a little physical exercise. The best way to enjoy a vacation in Hawaii "family style"!!
We seem to spend
more QUALITY time together as a family
on Kauai than at other vacation spots. "Quality time" on vacation being any time NOT spent in the hotel room and NOT spent playing video games.
Most of the activities you can do on Kauai with kids, except for a few hiking trails and the extreme adventure stuff, are something all children, from toddlers to teens can enjoy...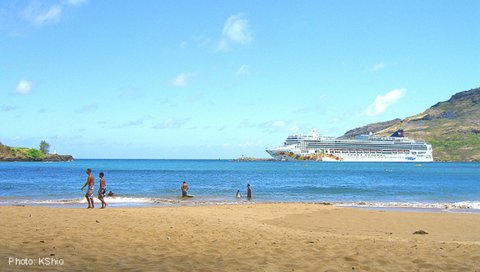 Kalapaki Beach!
...and the abundance of free or low cost things to do on Kauai help make for a
cheap vacation in Hawaii
too! If you have an active family, there's no end to the things you can find to explore on the Garden Isle.
...of course, the BEACH is always the cheapest, and in our opinion the BEST entertainment choice!



Most of the time, we just pack a lunch and the beach essentials, jump in the car and see where the day takes us.
So...we'll keep adding new info as we go along, please keep checking out the site, and if you have any questions or comments, please contact us.
We love to hear from people who visit our site, and we'll be glad to answer any questions you may have.
So if you've been thinking about a vacation in Hawaii- especially with your kids, Kauai is the perfect choice!!


Return to Homepage from Vacation in Hawaii
Return to Favorite Beaches