Our choices for the best
Kauai beaches
for family swimming!!
Which is YOUR kids favorite?
We think these are the best Kauai beaches for visiting with the kids.
When our daughter Sydney wants to go swimming, we head to one of these.
In fact, if you could put beaches into your T-Mobile "Fave-Five", these would be in hers! Click the links for lots more info about each of our favorite beaches.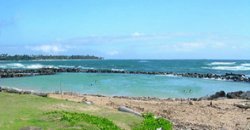 Lydgate Beach
Lydgate Beach
is Sydney's absolute favorite because of the protected swimming lagoons, and
an AWESOME playground!
Click the link for lots more info about Lydgate Beach State Park...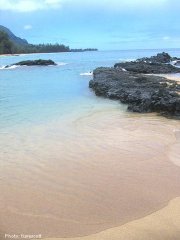 Ke'e Beach
...we think
Ke'e Beach
is the
best snorkeling spot for kids
during the summer. In the summer months, the reef protected lagoon is calm and clear...
...and you can walk in the water up to your knees and see beautiful colorful fish swimming all over!
This is where Sydney first learned to "snorkel" (or where she first put on a mask and Daddy held her under the water!)...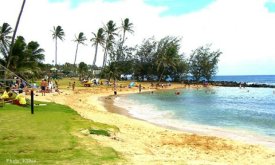 Poipu Beach
...next we have
Poipu Beach
on the south shore.
Another great beach with a protected swimming area, and whenever it's rainy by the other beaches, chances are you'll find the sun at Poipu...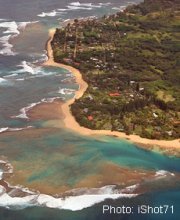 Anini Beach aerial view
...
Anini Beach
is
protected by the longest reef
in all Hawaii!
It's a llooongg beach with great snorkeling on one end, and calm, shallow, perfect kid swimming water on the other...









Kalapaki Beach
...and
Kalapaki Beach
is the last to
make the short list
of our favorite family beaches.
This is probably the best "all around" beach, because there's great swimming for the little kids, surfing or body-surfing for the older keikis, and the Kauai Marriott Resort beach-side bar is right there for Mommy and Daddy!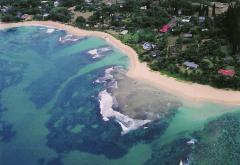 Tunnels Beach
AND THIS JUST IN
- we have a new addition now that Sydney is older -
Tunnels Beach
is an AMAZING beach - and there's a good chance you'll see some sea turtles on the way!
---
---
Most of these Kauai beaches have lifeguards on duty and protected swimming areas, which make them perfect for the little ones to wade/swim in.
And the big kids (like Daddy!) can explore a little farther out, and snorkel to their hearts content!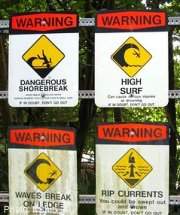 Read the signs...
USE SOME COMMON SENSE!
Oh, by the way, just a reminder
from someone who knows firsthand that jumping into the waters of an unfamiliar beach is really great, until the
unknown undercurrent grabs you
, and then you get flipped around for a while, and then you look up and see that you're 50 yards away from the beach and still moving, and then you swim for 5 minutes and
you're still just as far out
, and then you start to get a little tired, and then you swim some more and you're
STILL
just as far out, and then you start to
get REALLY tired
, and then that fluttery feeling in your stomach turns into a little voice in your head that's calling you names for jumping into that beachwater without thinking, and then you
swim some MORE
and you're no closer to shore, and then you
panic and swim frantically
making absolutely no headway, and then you remember to
relax and go with the tide flow
, and then that flow takes you downshore about
300 yards
, and then you are finally able to make it to shore, and then you
walk all the way back up
the beach to your family picking up shells and pieces of driftwood along the way so you can
pretend that you wanted to go down there
all along...
...PLEASE REMEMBER THESE BEACH SAFETY TIPS before you head out into the water, especially if you plan on hitting other Kauai beaches with younger kids!
So kick back, browse around, and check out the info on our favorite family swimming beaches. And then look for even more stuff on other Kauai beaches by area. Some of them are great for sunbathing and playing in the sand, and some of them are just great to look at...KAUAI - so many beaches, so little time!