Kalapaki Beach Hut
The best (and cheapest)
fish sandwich on Kauai!!
And it's not just the fish sandwich that's great...The Kalapaki Beach Hut has cheap burgers, loco moco, and really EXCELLENT salads, too!
The Beach Hut is right by the Kauai Marriott resort, and Kalapaki Beach. It's the PERFECT place to grab a to-go lunch for the family, and eat it on the beach.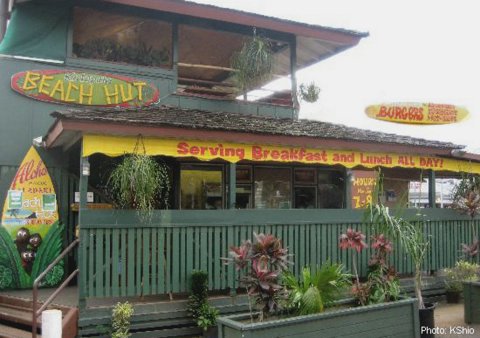 Kalapaki Beach Hut restaurant
3474 Rice St, Lihue, Kauai, HI 96766
Tel: 808 246 6330
The kids can stay on the beach and play, while you take a REALLY short walk to pick up lunch (or BREAKFAST, depending on how early your family likes to hit the beach!)...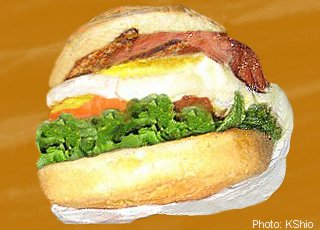 Beach Hut
Egg and Portugese sausage
breakfast sandwich
It opens pretty early, 7:00 am, and the breakfast food that they serve until 10:30 is really good...mostly $5-6 bucks, and decent portions. Their breakfast sandwiches
rock
, and they have loco moco too, but Daddy's been banned from eating that anymore!!
For lunch, Mommy LOVES the fish sandwich (it's really good, and you can get it grilled, not fried!), or else she snags a salad with grilled fish.
Daddy likes the fish and chips (DEEP FRIED, not grilled!!), and Sydney likes their junior burger that comes with fries and a drink for less than $5 bucks....
...considering Duane's Ono Charburger will set you back about $30 for a couple burgers, drinks and ONE order of fries, that's a bargain!!
Again, this is a great place to grab an inexpensive lunch and have a picnic on Kalapaki Beach, one of the best all around beaches for families on Kauai!
Pack your beach essentials, grab lunch at the Hut, and spend a great day on the beach!!

Return from Kalapaki Beach Hut to Favorite Restaurants
Return to Homepage