Marks Place is one of our
favorite Kauai restaurants
for good food cheap!

We love finding good local Kauai restaurants, especially CHEAP local restaurants, and Marks Place in Lihue is another of our faves!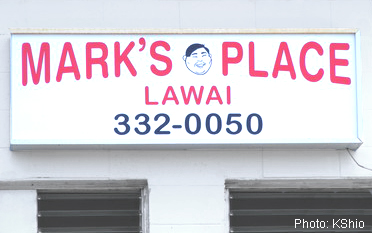 Great local food
It's one of the best spots for an inexpensive meal
...
...and another place you probably would never try if you didn't know about it and were just driving around "looking" for a place to eat.


It's a little out of the way in the Puhi Industrial park, but not hard to find if you know where you're going (look for the Kauai Community College on Puhi Road and turn there, then look on the right for the sign).
This is NOT a sit-down to eat place...inside, there's really nowhere to sit, although there's a picnic table outside. We always get take-out and go to a beach to eat.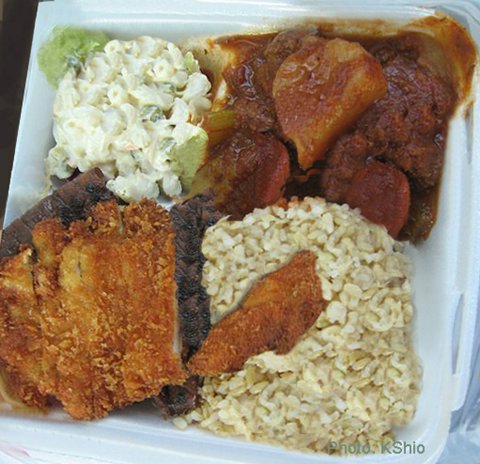 Try the "Special Mix Plate..."
Daddy's favorite is the
"Special Mix Plate"
which has beef stew, chicken katsu (a breaded chicken cutlet), and a choice of another meat...
,,,it also comes with the usual Hawaii style macaroni salad and a big scoop of good Japanese white rice.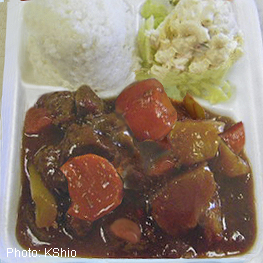 ...or the beef stew!!
For around eight bucks
, you'll get enough for two people to share (except Daddy won't share much when he gets the stew!)...
...and Mommy usually splits with Sydney. Hard to tell who eats more of it, because Sydney LOVES it!





The only major drawback for Marks Place, is that it's only open from 10 am - 2 pm...and sometimes I want that stuff for dinner!!
The first couple times we went by for an early dinner, it was closed...then some local friends told us they only open for lunch hours.
I've heard that their main business is catering, and that their wedding catering is really excellent...and I bet it's not $100 per person either!!

Return from Marks Place to Cheap Kauai Restaurants
Return to Favorite Restaurants
Return to Homepage