Our favorite local Kauai Restaurant
Hamuras Saimin restaurant in Lihue
Local food at it's best!!
Hamuras Saimin restaurant in Lihue is our favorite cheap Kauai restaurant. It's one of the first places we ALWAYS go to when we get to Kauai.
Some restaurants on Kauai make a living off of "ambience", you forgive the overpriced and pretty, but mediocre, food because of the service and surroundings...BUT some Kauai restaurants are the "local kind" joints, that aren't trying to "make an impression" about eating there, they're just trying to FEED people!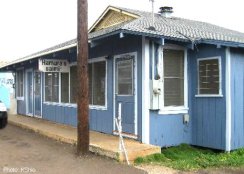 Hamura's Saimin Restaurant
956 Kress St, Lihue, Kauai, HI 96766
Tel: 808-245-3271
Like Hamuras Saimin restaurant...and we LOVE Hamura's, but they are NOT getting onto a "Best Of" list based on the service!
After eating there many times, I've decided that the people who work there (and judging from the way the restaurant looks, there's gotta be at least ONE Hamura working there) are not really RUDE, they're just too dang busy trying to FEED people.


Those ladies in the back (and usually a couple dudes) are doing some SERIOUS soup making and meat grilling...plus, if you catch them on the right day and time, they're also lillikoi pie and shave ice making!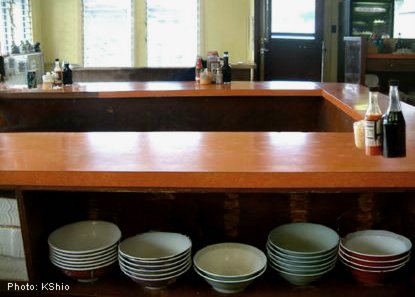 "Hamura's "old school formica counter
I've got three words for you - cheap, tasty and addictive. Hamura's Saimin is the ONLY Kauai restaurant where we would sit at an old formica countertop, without air conditioning, sweating rivers in ninety degree tropical heat while sucking down a steaming hot bowl of noodles!!



Remember, mentally prepare yourself to expect LESS than great service! When you walk in, you may not be acknowledged. There will be mostly locals seated, and you may get the feeling that the "Hamuras" don't even want you there. Not true! If there's space at a table, go sit. If there's space at the counter, go sit.

"Hamura's "new" menu
Sooner or later someone WILL come by and take your order- and it's not difficult, there's not much on the menu - pretty much saimin noodles with varying ingredients, and grilled beef or chicken teriyaki sticks.
| | |
| --- | --- |
| | |
| Hamura's Special Saimin | Hamura's BBQ beefstick |
Order the "Special" saimin if you want all the goodies inside...and get a couple of beef or chicken teriyaki sticks too...oh yeah, make sure to check out the condiments to put in the soup-we like the chili sauce, and Daddy likes the mustard too!
The kids usually like the tempura shrimp, and if you're lucky, the shave ice machine will actually be going...it's pretty hit and miss though! Also, the lilikoi pie is a great finisher, but that's not always available either...
...now, we tend to get take out a lot, since it's pretty close to where we stay and it's much nicer to eat in air conditioning!! Also think about getting a few sticks to go, because the kids will LOVE to eat it the next day at the beach for a snack!
Hamuras Saimin, definitely one of our fave-rave Kauai restaurants!!

Leave Hamuras Saimin and find another Kauai restaurant
Return to Homepage