The Tip Top Cafe -
one of our favorite Kauai
restaurants for breakfast!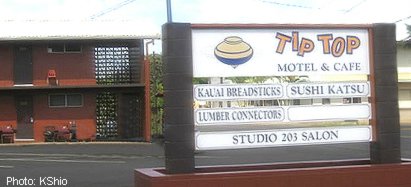 The Tip Top Cafe and Motel
3173 Akahi St. Lihue, Kauai 808/245-2333
The Tip Top Cafe and Motel
is one of the super-casual, inexpensive Kauai restaurants that's perfect for taking the family to fuel up for a day of exploring Kauai!
You'll see mostly local families, and it's a place where you won't have to keep "shushing" your kids!!
Yeah, I know, I know
, it doesn't look like much from the outside - and I'll let you in on a little secret...
...it doesn't look like much from the INSIDE either!!
It's definitely another one of those local joints that might not have the ambience of a resort hotel, but you'll get your family fed
good homestyle food for cheap!
There's a little "store" area inside where you can buy some funky snacks, and there's also a bakery, although the selection seems a little sparse.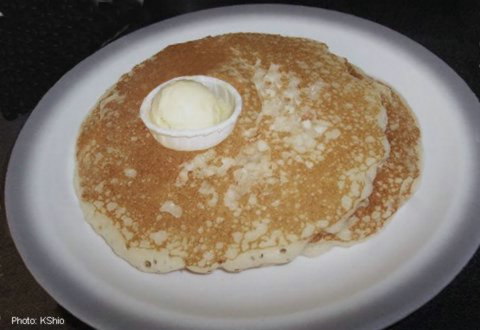 MMM!! Macadamia nut pancakes!!
The banana/macadamia nut pancakes with some eggs are a great way to fill up to start the day...try them with the coconut syrup...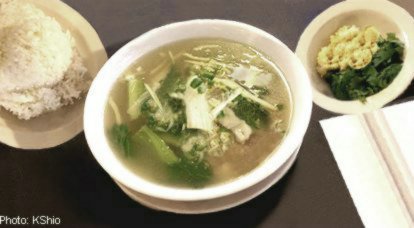 The oxtail soup with sides!
...and the oxtail soup is surprisingly good! Actually, this is the first place I ever tried oxtail soup, and now I try it at other places all the time, but Tip Top's is one of the best!
So, if you like tasty (but greasy!) hashbrowns with fried ham and eggs...or if you like the local style breakfast of Portugese sausage with eggs and rice or loco-moco, try the Tip Top!
Leave Tip Top Cafe and find another Favorite Kauai Restaurant
Return to Homepage