Which Kauai vacation rentals
are right for your family?
Condo? Resort? Motel? Campground?


Kauai vacation rentals range from luxurious upscale resort hotels on the beach, to bare-bone cabins at the Koloa campground, to simply renting a tent and spending a week at Anini Beach campground...
What your family requires is totally up to you and them.
We've stayed many different places, but after a couple of visits, we began leaning towards condos...
...Condos are less expensive than a resort, but have some of the same amenities such as swimming pools and sport courts, and they also have the benefit of a full kitchen, which is essential for helping keep the family food budget down!
Also, most 2 bedroom condos sleep up to 6, so you can fit the whole family in one unit, instead of 2 or 3 rooms at a hotel...
There's also the luxury of being able to wash dirty clothes and beach towels when needed, which is especially nice on Kauai!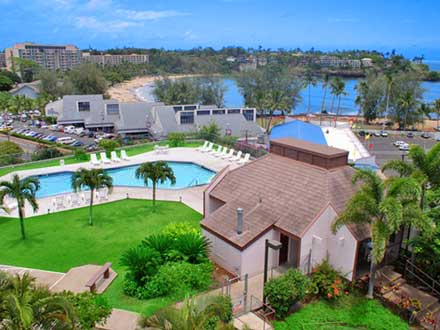 Banyan Harbor Condo Complex
After we realized how much we loved Kauai, we stopped worrying about finding places to stay each time, and invested in a couple of time share condominium units. In July,
we have a place at Banyan Harbor
in Lihue...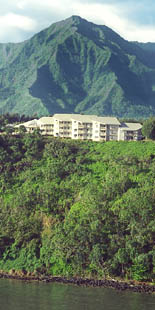 The Pahio Shearwater Resort
...and in October, we get uppity and head to the north shore and the Pahio Shearwater Resort in Princeville.
For those of you who don't have to worry so much about budgeting your accommodations, there are a number of wonderful resorts to take your family to...





...in the past, we've stayed at the Princeville Resort (closed right now for renovations), the Kauai Sheraton in Poipu, and the Kauai Marriott Resort in Lihue.
All of these beautiful resorts offer all the amenities you would expect, with the Princeville feeling the most opulent, and the Sheraton having the best pool!